March 24, 2012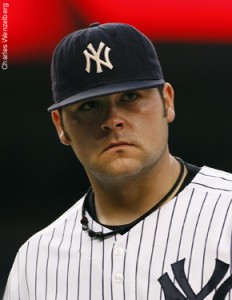 New York Yankee Joba Chamberlain recently had ankle surgery after a rather unfortunate trampoline accident. Joba was playing around, jumping on a trampoline with his son when his ankle reportedly got caught in the side railings of death.
Chamberlain suffered an open dislocation of his right ankle and set to leave the hospital this Sunday. Chamberlain was still recovering from his Tommy John surgery for his elbow so now he will have to rehab both his ankle and elbow. His timeframe to come back, if he comes back, looks around mid-July at best.
As a Yankee fan, it's really sad watching Joba go from the fame of "Joba Rules" to having to have Tommy John surgery and a freak accident like this basically kill his career. We've seen him shine and do so well. He definitely has struggled in the past but he's had flashes of brilliance and I really hope that he can recover enough to join the MLB again, no matter what team. Hopefully he'll still be wearing pinstripes and pitch for the Yanks.
This also makes trading Phil Hughes rather questionable now that Joba is sidelined. Really can't wait to see what the Yankees do in this spot, maybe if Brian Cashman can stop having affairs and rappelling down walls, he might actually get some work done. But I really don't want to ask too much of him, you know.
And not to be completely insensitive but what am I supposed to do with my Joba Chamberlain player t-shirt? I guess I'll just throw it in my pile of t-shirts I'll never wear again. It will join Johnny Damon and Brett Favre's t-shirts. May I never see the latter ever again. DAMN YOU BRETT.