March 4, 2012
AJ Burnett just cannot catch a break. Except in his eye. That was mean. Burnett recently broke an orbital bone in his face after he bunted a ball off his face. Yes, off of his face. I actually feel bad for him. He's going to be out 2-3 months but it won't affect his vision so hopefully he will make a full recovery.
Here is a very amateur video taken by VannyandVital of YouTube. What you don't realize is that everyone is watching him take his bunt.
The ESPN article has their screenshot of the video approximately .05 seconds before the ball makes contact with AJ's face.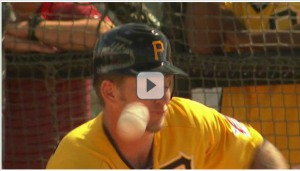 After he was traded to the Pirates, AJ said, "It's going to be fun. I'm going back to the National League, where I can hit and bunt and get the joy back into the game." Yikes. Talk about a bad omen. Worst part is that it was actually during bunting exercises, not during an actual game. Seriously bad luck.
On a baseball related note, I can't tell you how excited I am for the baseball season to start, only 32 days left!! The season always starts with 2-3 days of my birthday, if not on my birthday, so I consider it a birthday gift from the MLB. My birthday is on April 4th, so happy early belated birthday to me! Thanks, guys!
And you never know, the Pirates might pull a Tampa Bay and suddenly become the team to beat. You never know.
One Response to "I'm so sorry AJ Burnett"
Aaron Conyngham Says:
March 5th, 2012 at 1:41 pm

Tough break for Burnett. It seems that he's not the only one who can't catch a break, talk about the disappointment and bad luck for the Pirates. However there is some good news for the Pirates though, they recently signed their star outfield Andrew McCutchen to a six year deal. I'd like to see Burnett make a full recovery and hopefully make the Pirates relative this season.
Leave a Reply