March 19, 2012
This past week was the BNP Paribas Open aka Indian Wells, in Indian Wells, California. This is a Master's 1000 tournament so all the big names come including my love Rafael Nadal, who lost. All in all it was a great tournament until the weather decided to wreak havoc during hte last two days. Roger Federer ended up winning the whole shabang.
Some headlines include the big man John Isner beating Novak Djokovic in an incredible match. Isner won in three sets, including two tie breaks. Kind of a shocker. I didn't expect Isner to be an easy win but I thought Djokovic was a done deal. I guess Isner's crazy serve which hovered between 120-145 mph, you have a little more work to do. It doesn't help that Isner is a whopping 6'9.
As for my favorite, Nadal lost Roger Federer 6-3, 6-4. He didn't put up much of a fight until the second set but it still wasn't enough. He ended up struggling with wind and went down pretty easy. But he did win the men's doubles final with his partner Marc Lopez, also of Spain.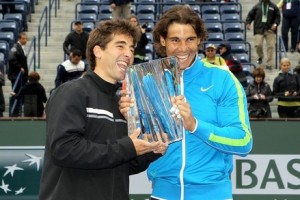 But there is no time to waste! The Sony Ericsson Open starts this week for first round wild card matches and Rafa is playing doubles again, color me excited! Hopefully he can actually win this one. He hasn't won a title since he won the French Open in June 2011. Sounds bad but he's made the final of almost all the major tournaments and…lost. All of them. So here's hoping for a better year!
Leave a Reply