April 6, 2012
I write this as I watch the first game of the Yankees season and I am SO EXCITED! And thank God for mlb.tv. Nothing makes me happier than some Yankee baseball on a beautiful spring day. Indoors. Whatever, I will watch the Yankees in person in May when they come to the beautiful Camden Yards. I haven't been to too many ballparks but Camden Yards is such a wonderful stadium to visit and I love the park. Baltimore is a great city with so much to do, just about a month to go!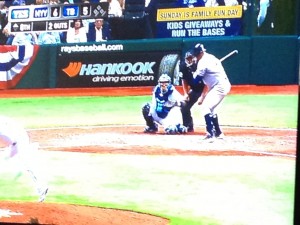 Moving on, there's so many things that come along with the start of baseball–the start of spring and great weather, my birthday, the end of the semester and late nights watching 1 am editions of Baseball Tonight. But I am mostly looking forward to finally watching the Yankees in person with a basket of chicken tenders and a huge cup of soda and at some point some funnel cake and before you know I'll have spent more money on food than my ticket. And I can't wait to do it all again but at Yankee Stadium and buy a hotdog that will require me to max out my credit card and a soda that will probably make me max out my other credit card. At least I have Camden Yards which is somewhat affordable.
It's time for me to bust out all my Yankee gear and finally order my favorite cap that I lost and  is no longer sold and siiiigh, I miss that hat.
Go Yankees!!
Leave a Reply